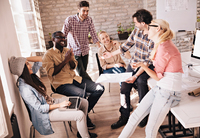 If you wish to join us as a teacher, please email us your CV together with a short covering letter telling us why you would like to join our project and how we can help each other!
The selection process is by interviews and by invitation to a recruitment event, and due to time restraints and the amount of applications we receive, only successful applicants will be contacted.
To all teachers who work with us, we offer a competitive hourly rate together with free teacher training and support, free attendance to our classes and online promotion to maximise their work as teachers.
Email us workwithus@singjazzinthehague.com for more info.